Ugh! I wish I could tell you that I've been busy working on some fabulous eats for you all, but that hasn't been the case! It's already nearing the end of June and our days have been coming and going so quickly that they seem to all run together in a big blur. So, here's a quick (hopefully) recap as to what's been happening this last month that has kept me from sitting down in front of the computer.
There's been our almost daily chores of taking care of the pony and the chicks. This in itself takes up most of our morning and prayerfully we make it home in time to sit and unwind with a nice lunch. It doesn't always happen, which results in some grumbling and whining from said princesses! At least I remember to pack the snacks and plenty of water to keep them hydrated after a good ride and some hard work of scooping poop!
She says she'd rather scoop poop than clean her room!
The chicks are growing by the minute and are now in the "ugly" stage where all their cute little fuzzy feathers are gone. The princesses like to spend time with them outside watching them scratch and preen their feathers! Papa says they should start laying eggs soon!
Our first trip to the beach this summer and we didn't even go in our swimsuits! I know it sounds crazy, but it has actually been a bit chilly down at the coast so we haven't "officially" had a beach day yet. We went to watch some dogs surf in the 7th Annual Loews Surf Dog Competition! Oh my goodness! If you have not yet had the opportunity to do such a thing, I highly recommend it. I have never seen so many different types of dogs, not to mention people, in one place at the same time! Let's just say, there was a whole lot of barking and cheering going on!
Here's a sneak peek at some of the action…
This big dog rode the wave all the way in!
A trip to the beach wouldn't be complete without searching for seashells!
The princesses love the sand on their feet!
And mom, on the other hand, is not such a huge fan of the sand! I did enjoy the warm sunshine on my toes!
It was worth the crowds, worth half of the beach we brought home in the car and worth the mile and a half trek the hubs made to find a parking space for us!!
Amidst our running here and there, my little Cailyn came down with a nasty cold that she's still battling. I think the Lord was telling us we needed to slow down and spend some time hangin' out at home. I just don't have it in me to keep still, so I did some summer "spring cleaning," ordered our school curriculum for next year and started on some projects to make our schooling area a bit more functional for the princesses. After a few days of "green smoothies" and fresh farmer's market meals like this one…she's on the mend!
Cookin' up lots of greens…asparagus, broccoli, mushrooms and a little garlic.
Placed the veggies onto a bed of quinoa.
Then topped it all with some eggs (5 eggs and 1 cup of milk, whisked together) and popped in the oven for about 45 minutes.
And there you have it, a "farmer's market" fresh egg frittata!
Just this week I stumbled upon a new-to-me fruit and vegetable stand up the road from our house…Grebar Farms! I picked up some boysenberries, blackberries, peaches, and some strawberries.
This fruit salad was so sweet and delicious, I ended up eating another bowl full for dessert!
And more greens! I also purchased a package of their "gourmet salad" greens, a bag of spinach, cucumbers and a bunch of kale. This salad was a meal in itself after adding some orange and red peppers, broccoli, green onion, sunflower seeds and cranberries. I've been eating it all week!
Speaking of "green," the hubs and I have recently made the decision to "go green" at home and get rid of all of our chemically laden cleaners. A few months ago we were introduced to Shaklee, a company that's been making a difference in people's lives for over 50 years! They use the highest quality natural ingredients available to offer products that are "always safe, always work and are always green." And if that wasn't enough, Shaklee has created one of the first biodegradable, nontoxic cleaning products in the United States. I was a little hesitant at first because I've used "green" cleaning products before and they don't always get the job done! With Shaklee, I was able to try the products out before I purchased them and was highly impressed with the results. My little Cailyn left some crayons in her pants pockets that went through the wash and dryer…oh what a mess! I was sure all of our clothes were ruined, but after soaking them in Shaklee's Basic H Concentrate along with the Nature Bright Laundry Booster and then running them through the wash a second time, the clothes were as good as new! Needless to say, it was out with the old and in with the new Shaklee!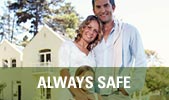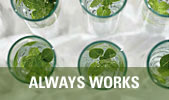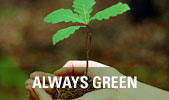 (source)
The hubs and I love that Shaklee stands behind each one of their products…the ingredients, purity, safety and performance of all their Nutrition, Healthy Home and Personal Care products are all 100 percent guaranteed. We didn't stop with the cleaning products, our family has also swapped out all of our supplements with Shaklee vitamins and we are feeling fabulous! So fabulous that the hubs and I have now decided to take the next step and become distributors for Shaklee! Now we've got the rest of the family on the bandwagon, including my sister and her husband and my parents!
If you'd like to find out more information on what Shaklee is and what they have to offer, you can check out our website here or e-mail me with any questions!
Nourishing Thought For Today:
Just something fun that made me smile today! We're driving home today and the princesses were having a conversation in the back seat and I this is what I hear:
Princess Makenna: "There's not a cloud in the sky today."
Princess Cailyn: "That's because God ate all the clouds for breakfast!"
Blessings,
J'lene